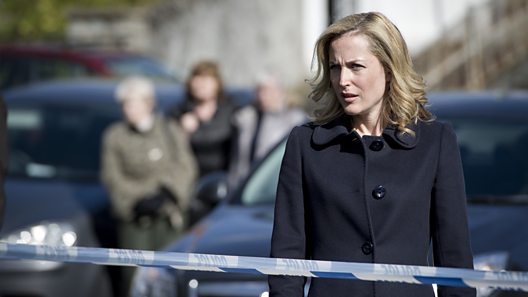 Credit: BBC Two
Last night I had the bad luck to start watching the BBC Two series The Fall on Netflix. I say bad luck not because there was anything wrong with the series. On the contrary, I thought for the most part that it was pretty great. It was my bad luck because I had hoped to go to bed early and once I started watching The Fall I had to stick with it and watch all five episodes. As a result, I'm a bit tired today, but satisfied.
The Fall stars Gillian Anderson and Jaime Dornan. Anderson is Stella Gibson, a police detective from England on loan to Belfast to try to push forward an investigation into the murder of a young professional woman. Once Gibson starts looking into the crime, she realizes that there was an earlier murder that may have been committed by the same killer. Soon enough, there is another murder.
Dornan, who I was not familiar with beforehand, plays Paul Spector, the killer. This is not a spoiler as Spector is shown to be the killer from early in the first episode. The series follows parallel plots with Gibson and Spector that barely intersect. Each story is compelling. Less interesting is the secondary story involving police corruption and an entitled sleazeball. It is interesting that Gibson watches an interview with the sleazeball with a connection to her case and knows something is wrong with him even if it doesn't affect her case. Gibson can solve everything.
Although I really liked the series, and Anderson was as smooth as expected and Dornan was magnetic, I was a little troubled when it was over. It feels like I have seen a lot of serial killer stories and that they often involve women in peril. The suggestion of misogyny in The Fall is tempered by the lead detective being a woman (and that woman approaching sex like a man) but it still left me uneasy. Maybe the serial killer thing needs to be retired for a while (except for Hannibal, of course).
Maybe I'm just overreacting after watching the latest seasons of Mad Men and Game of Thrones, series in which women's places are even more restricted than actresses' on episodic television. And there is no doubt that the world of The Fall is more friendly than the world of Top of the Lake, a series to which I assume The Fall will be compared.
For the record, I liked The Fall more than Top of the Lake. The world of The Fall is less interesting, as you would expect, but it is also less self-consciously interesting. Through the police corruption plot we get some insight into a part of Belfast that is different from the parts occupied by Gibson and Spector, a part that made me think twice about visiting the city. (For a person who lives in New York I can be unreasonably squeamish about danger in other cities.) And although the police corruption plot is much less compelling than the main story, it does give work to a couple of actors from Game of Thrones, and that was great to see.
The Fall is five episodes and is on Netflix so you can bang it out in a night if you want or you can attempt to let each episode breathe, although I don't think you'll be able to keep that up. BBC Two renewed The Fall for a second season (or series as they say) and I'm confident that you'll want to watch more after you finish the first.